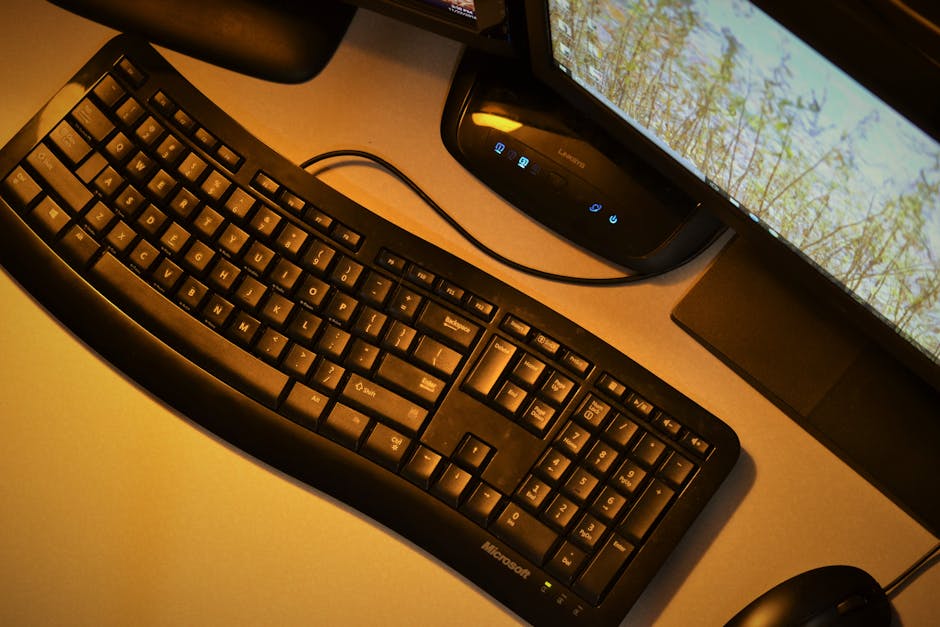 When you open your computer, your fingers will stay in the keyboard until you are done. Whatever is your purpose, there is an appropriate keyboard for it. You can read the different types of computer keyboards in this link.  If you own a desktop, you may be using the usual keyboard that goes with your computer. With the long hours in front of the computer, get a keyboard that has a bit of extra features. Your keyboard can do a lot for you so it is best to invest on the right keyboard. Make your computer experience better by following the guide below:
First, take a look at the back of your computer. You will find either a round or a rectangular port. The round is a PS2 port and the rectangular one is a USB port. The kind of port will tell you of the type of connection your keyboard needs. If you spend most of your time typing, then you need an ergonomic keyboard. If you deal with numbers, a numeric pad can allow you to work in comfort.
A gaming keyboard is good for those serious players. This type of keyboard is usually backlit, and illuminated. It is a perfect choice for gamers who loves playing all night because they can still see the keys even in dim areas. There are keyboards that are soft and sensitive, but there are others that needs more pressure to type on. The mechanism that is responsible for the level of noise, sensitivity, and comfort is called "switch."
The USB ports and the PS/2 ports connection is almost obsolete. The wireless ones which connects to the system via Bluetooth is the more recent type. The only challenge is how to set it up. Know that a lot of keyboards needs software installed to use the function keys. Check first if the keyboard is compatible with your system.
The design of your keyboard will make your computing experience more relaxing. Based on various needs, keyboards can be group together. Standard keyboards are common but it comes with multimedia keys aside from its standard set of 104 keys.
Wire or wireless? Both has its pros and cons. The wireless has no cord that will clutter your working area. However, it might get into the way of your other wireless devices. In gaming, the wired keyboard is much preferred. The wireless can lag which can hinder the gameplay so it would not recommended if you are a serious gamer. Also, the wireless keyboards are powered by batteries that adds to your cost, or you have to charge them from time to time.
With the fast-paced lifestyle these days, you need to speed up your work. There are multimedia keyboards that has extra function keys that can be used for controlling music player, volume, launching apps, etc. Some has a mini joystick or a touch pad in place of a mouse.
The price depends on the features that are added to the keyboards. Choose the best within your budget. The more features, the more expensive. Whether you decide on a wireless, ergonomic, gaming, multimedia, portable, always check the keystrokes. Test how the keys feel when you use it.
https://phoenixwebsitedesign.com/wp-content/uploads/2020/04/Phoenix-Website-Design-logo.jpg
0
0
Carmel
https://phoenixwebsitedesign.com/wp-content/uploads/2020/04/Phoenix-Website-Design-logo.jpg
Carmel
2017-07-11 23:40:25
2017-07-12 01:17:24
How to Choose the Right Keyboard